Central St Martins, University of London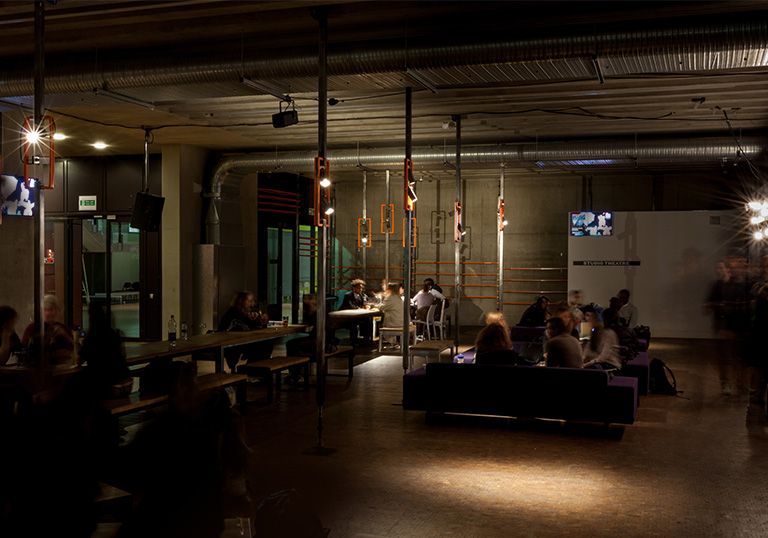 Design – Ingrid Hu and Xavier Llarch-Font
Structural Engineer –Tall Engineers
Fabricator and installer  – Steely Trees
Photography by James Whitaker
The Platform Theatre at Central St Martins in Kings Cross, London, is a public space shared by the students and the public. Two years after its opening, the space has become a busy hub for staff and students, as well as an event space for corporate hire.
The design brief asks for a more intimate arrangement, a flexible display structure for students' work, and lockable shelves for the student bar – without drilling into the beautiful end-grain floor and exposed concrete ceiling designed by Stanton Williams Architects.
Working with TALL Engineers, a series of steel poles, designed to be compressed against the floor and ceiling, serve as the basic structural elements for incorporating lights and shelves. In response to the linear and industrial architectural language of the space, a lighting design in the form of a breakaway section of the steel pole is developed to allow omni-directional turning. These spotlights create intimate pockets of warm glow and help to define the furniture layout in the foyer. They are also used as spotlights for displays and events in the foyer.
The bar area is fitted with a series of boxes for storing alcohol, locked by mechanical mesh frames that can be winched up and down from one side, like miniature scenery flats.