Thanks to a_zero environmental architects who took part in Maggie's Culture Crawl, I joined this all night charity walk that lasted 7 hours.
Walking through London overnight is a strange sensation. Contrary to hiking in mountains, you take in large scale manmade structures / spaces over a time and distance that is a lot longer than normal, and after a while you start to question whether humans are really good at building an 'environment'.
I lived in a concrete jungle before, so this is not a reaction against the built environment. It is an observation that layers of history, labour, and thoughts that have shaped London, seem to have all flattened into a single backdrop during this walk, and Londoners on a Friday night seem to be flattened to become part of that backdrop too.
I led a short course in the summer which looked at re-adapting a design response to a city, in this case New York, to a London context. Characteristics of a city are often described by well-known landmarks, cultural icons, historical references and local customs. To take the students into the heart of the city, I organised walks by two Londoners who kindly accepted my request and took the students around places that they live, work, and hang out.
What makes these walks special, and a human experience, is that the first hand experience which allows students to form different, authentic opinions, and more meaningfully the opportunity to interact with locals who have things to say about the place they live in.
Similarly, the most touching aspect throughout Maggie's Culture Crawl is the participants, both those who walked and those who prepared, sign-posted, cheered along the way. If the same all night walk takes place somewhere else, I hope it carries the same message – it is not about London or the special places we get to visit in the middle of the night, it is about people who are willing to step out from the backdrop together for a meaningful event. One sees a very different London with these people in the foreground. One of the most vivid moments is an elderly man, walking slowly with his walking stick…
I am also impressed with the creativity at various rest points. It reminds me of promenade performances. The tree with hanging apples, for example, is a magical touch, and I would like to think that there is as much joy in the preparation as in the receiving end. But all praises go to the ingenious polarised glasses that turn lights at a distance into heart shaped glows.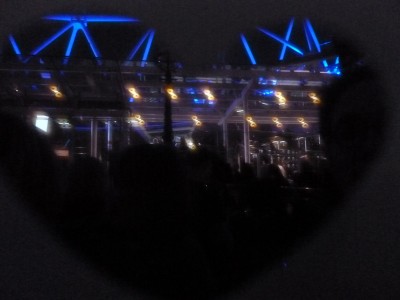 To end the ramble, it feels appropriate to keep remembering and sharing this quote from Susan Sontag:
'Compassion is an unstable emotion. It needs to be translated into action or it withers. The question is what to do with the feelings that have been aroused, the knowledge that has been communicated.'